Workshop Panelists: Building Trusted Networks
May 19, 2021 | 2:30 pm – 4:00 pm ET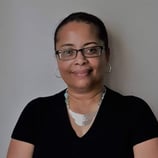 Dr. Diane Barber
Manager of Advanced Practice Providers and Clinical Research Nurse Practitioner, Department of Investigational Cancer Therapeutics at the University of Texas MD Anderson Cancer Center
Dr. Barber is the manager of advanced practice providers and a clinical research nurse practitioner in the Department of Investigational Cancer Therapeutics at the University of Texas MD Anderson Cancer Center in Houston, Texas. She has more than 33 years of nursing experience in general surgery, orthopedics, and oncology. She received her PhD from the University of Texas at Tyler, her MSN from the University of Pennsylvania, and a BSN from the University of Hawaii at Manoa. Dr. Barber has authored several peer-reviewed articles and has presented nationally and internationally on oncology related topics. She is a nationally recognized, award-winning nurse practitioner, and a Fellow of the American Association of Nurse Practitioners (FANNP). Her current research interest is the role of advanced practice providers in the outcomes of patients with cancer participating in early phase clinical trials.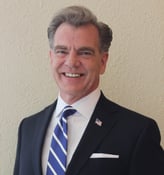 Paul T. Conway
Chair of Policy & Global Affairs, and Immediate Past President, of the American Association of Kidney Patients (AAKP)

Mr. Conway serves as Chair of Policy & Global Affairs, and Immediate Past President, of the American Association of Kidney Patients (AAKP), the nation's largest kidney patient organization. He is also Co-Chair of the AAKP Annual Global Summit on Kidney Disease Innovations, a partnership event with the George Washington University School of Medicine and Health Sciences that engages patients and researchers in over seventy countries. He has managed kidney disease for forty-one years, including three on peritoneal dialysis and, for the past twenty-four, with a transplant.
His career includes federal service under four U.S. presidents, three Virginia governors and in support of five presidential transitions. His federal awards include the Department of Homeland Security Secretary's Silver Medal for exceptionally meritorious service to America. In 2021, he was named to the Presidential Rank Review Board to evaluate federal career executives for White House and presidential recognition. His previous federal posts are: Chief of Staff, Department of Labor; Chief of Staff, Office of Personnel Management; agency Chief of Staff, Department of Homeland Security; and Special Assistant, White House of National Drug Control Policy. In Virginia, he served as Deputy Secretary of Health & Human Resources and on the Boards of Health Professions as well as Commonwealth Protection. He has received both the ASN and AAKP President's Medal for policy advocacy before Congress and White House.
His current roles are: Chair, Food and Drug Administration, Patient Engagement Advisory Committee; Board of Directors, Kidney Health Initiative; External Expert Panel, National Institutes of Health/NIDDK Kidney Precision Medicine Project; Contract Board, United States Renal Data System; Patient Voice Editor, Clinical Journal of the American Society of Nephrology; American Board of Internal Medicine, Nephrology Specialty Board; and Patient Advisory Board, Univesity of Washington Kidney Research Institute and Center for Dialysis Innovation.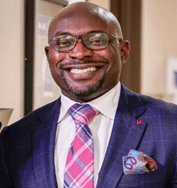 Dr. Foluso Fakorede
Physician, Entrepreneur and Advocate for Health Care Injustice

Dr. Foluso Fakorede, Physician, Entrepreneur and Advocate for health care injustice spent his formative years in Nigeria and immigrated to America as a young teenager. A standout student, he obtained a Bachelor of Arts in biology and a minor in economics from Rutgers University. Then he received his medical degree from UMDNJ-Robert Wood Johnson Medical School in Camden, New Jersey. He completed internship and residency in internal medicine at New York Presbyterian Weill Cornell Hospital. Dr. Fakorede returned to New Jersey to complete fellowship in cardiology, interventional cardiology, and endovascular intervention at Cooper University Hospital- Camden, New Jersey. During his fellowship, Dr. Fakorede was honored with the distinction of Chief Cardiology Fellow. Dr. Fakorede specializes in preventative cardiovascular management, women's heart health and catheter- based procedural focus in coronary atherosclerosis disease (CAD) and peripheral atherosclerosis disease (PAD). He currently serves on the Society of Cardiac Angiography and Intervention (SCAI) vascular disease committee and as part of the American Heart Association (AHA) Patient Advocacy Group.
In 2015, Dr. Fakorede started Cardiovascular Solutions of Central Mississippi with a mission to educate and provide access to quality health care for all. He has become a national voice in the fight against the impact of health disparity in underserved communities. As the Co-chair of the Association of Black Cardiologists' (ABC) PAD initiative, Dr. Fakorede has been at the helm of working with Congressional lawmakers to establish the first ever bipartisan PAD caucus whose mission is to support legislative bills to stop the virulent practices of preventable amputations and to educate communities about legislative activities aimed to improve PAD research, education, and treatment.
In 2018, as part of a congressional delegation, Dr. Fakorede testified on Capitol Hill in Washington D.C., regarding the epidemic of peripheral arterial disease and spearheading a "sprint to zero amputation campaign" with policy actions proposed to stop unnecessary amputations. In October of 2018, Dr. Fakorede traveled to Cuba as part of Congressional Delegation (CODEL) to discuss the impact of diabetes management on the peripheral arterial disease pandemic. Dr. Fakorede has established partnerships with law makers, community, industry, university, and faith-based stakeholders to facilitate cardiovascular education, promote nutrition coaching, highlight social determinants of health, improve access to quality care and engender trust in the underserved communities. These preventative initiatives, aggressive screening adaptations and quality intervention strategies have led Dr. Fakorede to decrease amputations rates by 88% over a 3-year period in his site of service in the Mississippi Delta. This accomplishment has been highlighted in the ProPublica article, "The Black American Amputation Epidemic", published on May 19, 2020. This article reached a potential of 300 million on "NBC Nightly News with Lester Holt" and CBS News Network. This important article addressing unnecessary amputations has been reprinted in Medpage Today, AJMC, The Hill and Fierce Healthcare and was also featured by the Harvard School of Public Health. Dr. Fakorede is the lead author of the Society for Cardiovascular Angiography and Interventions (SCAI) Disparities White Paper.
Dr. Fakorede's work for health equality has been highlighted by Business Insider, Men's Health Magazine and Reader's Digest. He was honored by The ROOT 100 most influential African Americans 2020 and also invited to become a member of the Men's Health Magazine Advisory Board. Dr. Fakorede has become the PAD advocate with a purpose that is impacting the lives of the forgotten and voiceless and ultimately eliminating health care disparities.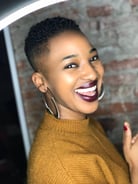 Mia Keeys,
Director of Health Equity Policy and Advocacy of the American Medical Association's Center for Health Equity

Mia Keeys is the first Director of Health Equity Policy and Advocacy of the American Medical Association's Center for Health Equity. She is the former Policy Director of the Congressional Black Caucus Health Braintrust and Health Policy Advisor to Congresswoman Robin Kelly (D-IL). Previously, Mia has also been a Kaiser Family Foundation Barbara Jordan Health Policy Scholar; a Fellow for the City of Philadelphia in the Deputy Mayor's Office for Health and Opportunity; an HIV/AIDS researcher in South Africa; and a U.S. Fulbright Fellow to Indonesia, where she worked on education and public health initiatives on behalf of youth and their families for three years. The National Minority Quality Forum recognizes Mia as a 40 Under 40 Leader in Minority Health. The National Academy of Medicine features Mia's children's book on health equity—titled Cole Blue, Full of Valor—in their 2017 national exhibit, "Visualizing Health Equity." Her work on youth and the imagination is featured in a TEDx Talk, titled "A Racial Imagination Quotient".
Mia holds Bachelor of Arts degrees in English and Psychology from Cheyney University, and a Master of Arts degree in Medical Sociology from Vanderbilt University, where she was a Robert Wood Johnson Foundation Health Policy Fellow through Meharry Medical College. She is currently a doctoral student at The Milken Institute School of Public Health at The George Washington University. Mia is also a creative non-fiction writer, with training from the University of Oxford in the United Kingdom. She is originally from Philadelphia, PA and calls Washington, D.C., home.
For questions, please email us at AdvaMedEvents@AdvaMed.org.